Find out more about your right to remain
On this page, you can find out all about your right to stay here. Watch the video in one of seven languages and learn more about your rights in Germany. Below the video, you will find a detailed text where you can read everything through again. In the text, important words are also explained in simple terms.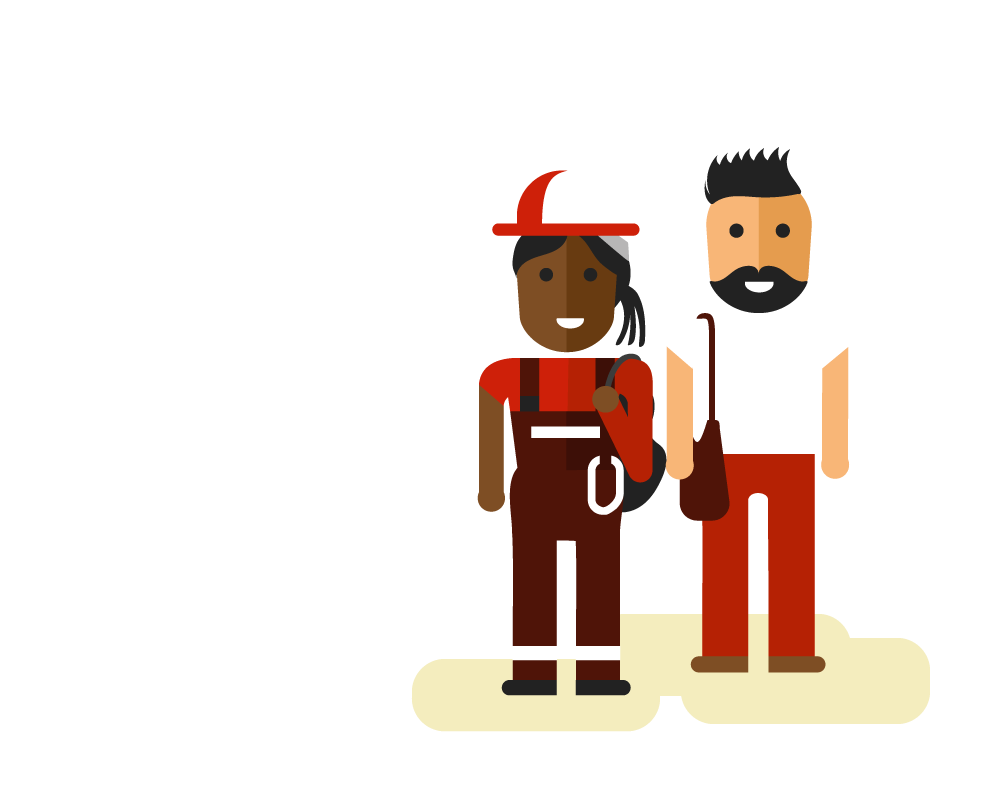 Discover this video in eight other
languages
!
русский
Deutsch
English
Français
Shqiptar
Srpsko-hrvatski
العربية
دری
ትግርኛ
Have you received all the necessary information?
Here, you can read over all the information that was mentioned in the video once more. Important terms are also explained here once again.
My right to stay
There are different possibilities of staying in Germany: for example, you may get a residence permit to work, to study, to learn German, to go to school or to live together with your own spouse or children.
How can I enter Germany?
Persons wishing to enter Germany usually need a visa, which they can apply for at the German embassy in their country of origin in advance. The German embassy checks whether a visa will be granted. Whether you will be granted a visa depends on certain factors. Tourists and business travellers must meet different requirements to those persons wishing to stay for a longer time in Germany.
What requirements must I meet?
This will depend on your reason for entering Germany, how long you would like to stay and your own country of origin. For example, you must prove that you have enough money to live on and that you will leave the country after the visa expires. You can get more information about the requirements from the website of the German embassy in your country of origin.
Can I stay in Germany without a valid visa?
If you have entered Germany without a valid visa, it is very difficult to stay here long-term without first having to leave the country and repeat the visa application procedure.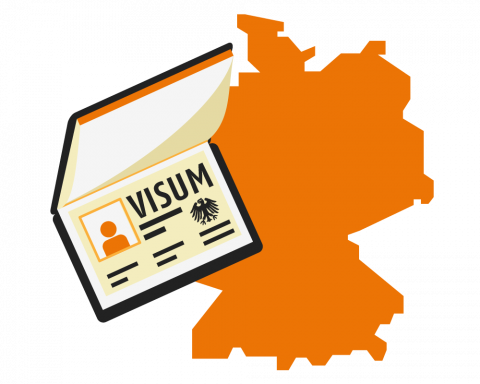 What are other options are there for staying in Germany?
You also have the possibility to seek protection from persecution or to remain here for humanitarian reasons. This will be verified during an asylum procedure.
If the application is approved, you will get a residence permit.
If the application is denied, it may be that for a certain period, you will not be permitted to enter the Schengen area. For this reason, it is very important to get advice from a counsellor before applying for asylum.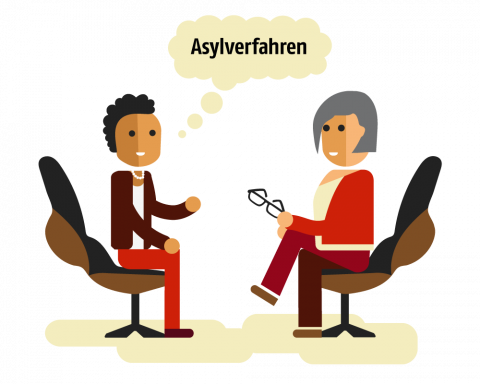 How do I get a residence permit?
To apply for a residence permit, you must go to the Foreigners' Registration Office [Ausländerbehörde]. All residence permits are granted on a temporary basis at first. After your permit has expired, you must keep proving that you still meet the permit requirements.
How do I get an unlimited residence permit?
In order to apply for an unlimited permit (settlement permit), you must as a rule have been living and working in Germany with permission for 5 years. However there may be exceptions, for example for refugees, legal spouses and students. If you hold an unlimited residence permit in another EU country, you may also be granted an unlimited residence permit in Germany.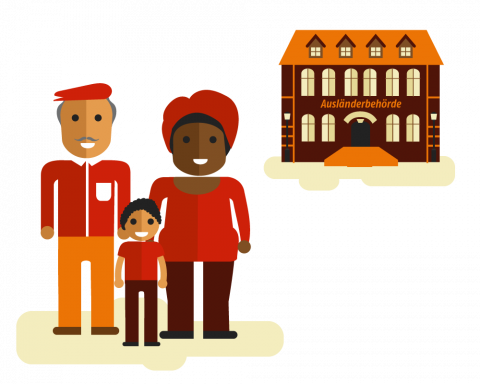 How can I get German citizenship?
As a rule, after 8 years of living legally in Germany (or under certain conditions, after 3 or 6 years) you may apply for German citizenship. To do this, you must meet certain conditions and, if at all possible, give up your previous state citizenship.
It is very important that you make an effort to meet the conditions for a residence permit early on. Please do seek this advice from a counselling centre.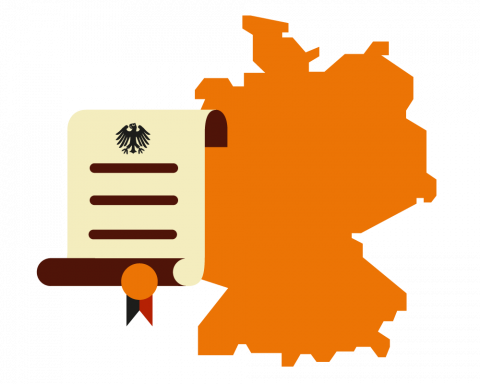 Here you find explanations of important terms.
Entry
Entry is when a person enters another country, for instance Germany.
Visa
The authorisation that allows a person to enter into a country and stay there (for a certain period of time). A person must apply for a specific visa depending on the reason for coming to Germany. If someone comes to work, they must apply for a different visa from someone who would like to come here on holiday.
German embassy
A German embassy is Germany's diplomatic representation in other countries.
Tourist
This is a person who visits another country to take a holiday.
Country of origin
The country of origin is the country from which one has come and where one has citizenship.
Leaving a country
This is when one leaves a country or must leave a country.
Visa process
During the visa process, checks are made to assess whether a person is granted a visa. One must provide all the documentary evidence required for the visa application.
Asylum process
An asylum process examines whether a person is to be granted protection in a country. The asylum process is a very complicated process. The asylum process is the method for checking whether a person will receive protection in a country.
Application for asylum
The application for asylum is a part of the asylum procedure. As soon as the application is submitted, the asylum procedure begins. It is submitted to the BAMF (Federal Office of Migration and Refugees). It will be ascertained as to whether a person is to be granted protection, and if so, which kind.
Schengen area
The following countries have signed an agreement stating that the national borders between them will not be monitored. These countries include: Belgium, Denmark, Germany, Estonia, Finland, France, Greece, Iceland, Italy, Latvia, Liechtenstein, Lithuania, Luxembourg, Malta, Netherlands, Norway, Austria, Poland, Portugal, Sweden, Switzerland, the Slovak Republic, Slovenia, Spain, the Czech Republic and Hungary.
Humanitarian grounds
A person can get protection on humanitarian grounds, if they cannot return to their country of origin (for reasons other than persecution). For example, if one has a serious illness for which there is no medical care in the country of origin.
Permission to reside
Permission to reside is a limited residence permit. This means that one is allowed to enter Germany and live there for a limited period of time.
Residence permit
To legally enter Germany and live there legally, one needs a residence permit. There are different kinds of residence permits: the visa (limited), the permission to reside (limited), the EU blue card (limited), the settlement permit (unlimited) and the EU permission for permanent residence (unlimited).
Unlimited residence permit
This is a residence permit that is not limited to a specific length of time.
altstitel der nicht auf eine bestimmte Zeit begrenzt ist.
Time limit
Time limit means that a permit will become invalid after a certain period of time.
EU country
EU countries are all countries that are part of the European Union: Belgium, Bulgaria, Denmark, Germany, Estonia, Finland, France, Greece, Great Britain, Holland, Ireland, Croatia, Italy, Latvia, Lithuania, Luxembourg, Malta, Austria, Poland, Portugal, Romania, Sweden, the Slovak Republic, Slovenia, Spain, the Czech Republic, Hungary and Cyprus.
German citizenship
With German citizenship, a person holds all the rights and duties of a citizen.
Foreigners' registration office (Ausländerbehörde)
Foreign registration offices are responsible for granting or refusing residence permits. They are not responsible for the asylum process.The BAMF (Federal Office for Migration and Refugees) is responsible for that.
Legal residence
A residence is legal if it is allowed by law. This is the case if you have a residence permit and may be the case if you have a preliminary residence permit (Aufenthaltsgestattung) or a temporary suspension of deportation (Duldung).